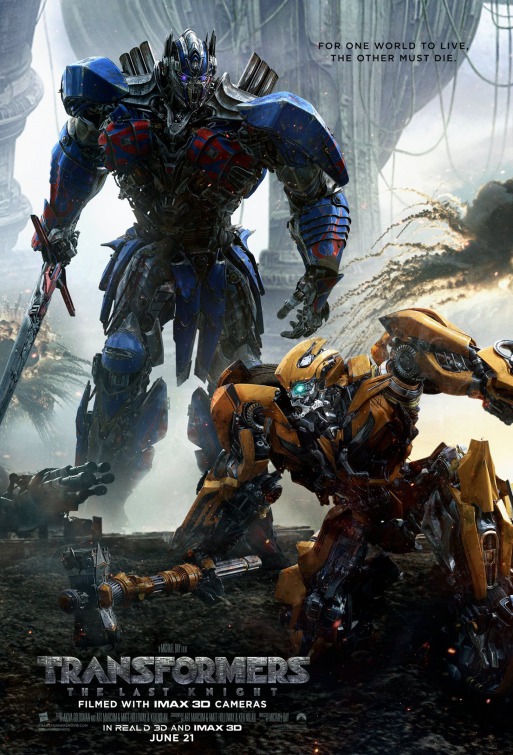 *** This review may contain spoilers ***
Autobots and Decepticons are still at war and the key to saving our future lies buried in the hidden history of Transformers on Earth.
The expensive state-of-the-art special effects and Mark Wahlberg is mostly what keeps the fifth installment of the franchise watchable, aside for the nods to the original series (ship crashed on a hill, Frank Welker's voice, the episode "A Decepticon Raider in King Arthur's Court" to name a few) very little remains what many of the 1984 viewers fell in love with.
Director Michael Bay's staple eye candy and stereotype battle of the sexes aside, although some human characters return including Josh Duhamel, Nicola Peltz (voice cameo), John Turturro and an unrecognisable Stanley Tucci as Merlin, not even Anthony Hopkins can raise this above mediocre.
The Last Knight is packed with pointless expletives, the usual flash editing, big fights, eye rolling comedy and a compulsory loud soundtrack to accompany the on screen shenanigans. The tone is inconsistent as it goes from one setup and continent to the next. It's crowded with new characters and set pieces including underwater submarine chases, medieval battles, D-Day WWII like battles to outlandish colliding planets with jets, three headed dragon Transformers, swords, a staff and a butler – everything is thrown in.
There's a niggling feeling that the Transformers franchise needs to go back to some design basics and charm of the original series even with harking back to the knights of King Arthur in the plot. Yes, sadly some classic G1 Transformers are missing or not resurrected and new robots are thrown in just to sell more toys. However, where there is an improvement, is that here we have more interaction and characterisation from Transformers robots themselves.
Entertaining at times, watchable, slick leave your brain at the door robot action film, but unnecessarily messy and desperately needs to go back to the source material.