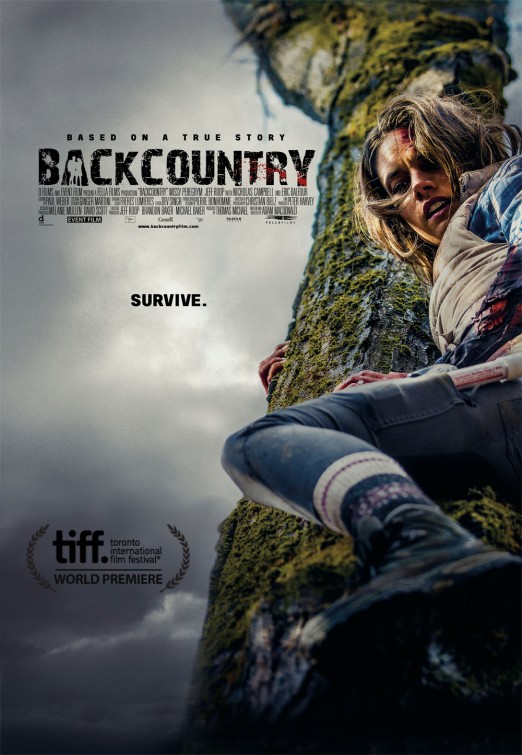 *** This review may contain spoilers ***
A landscaper takes his girlfriend on a nostalgic camping trip but the couple find themselves lost in the territory of a predatory black bear.
Very loosely based on the 2005 true events of Jacqueline Perry and Mark Jordan, Blackfoot Trail A.K.A Back Country has a simmering build up as the two leads trek into the wilderness. The first 45 minutes is broken up with a tension filled scene where Eric Balfour's Brad make's a subtle move of sorts on (Jeff Roop) Alex's girlfriend.
Refreshingly, its' not a found footage film and traditionally shot. Director/writer Adam MacDonald is wise to take a less is more approach keeping the 'monster' hidden for the most part. After the couple become lost the first major attack comes in around the hour mark and it's worth the wait, the bear and gore effects are particularly brutal. MacDonald uses an unconventional interesting pull on focus. This unorthodox technique adds to the on screen proceedings especially as Jenn, played realistically by Missy Peregrym, is put through the mill.
The small cast ensemble are effective right down to the bit parts, notable is Nicholas Campbell as a Ranger. Although Balfour's Irish accent is unnecessary, it's a shame that his part is only an extended cameo. It's fitting MacDonald plays against expectations as Balfour's Brad doesn't simply save the day, but it would have been effective if MacDonald had weaved Balfour's character into the story a little more. But it's a little quibble. Frères Lumières music complements Christian Bielz's raw cinematography and MacDonald's on location shoot adds to the realism.
The real black bear moments sell Blackfoot Trail, expect a slow burner with great scenery and grounded performances. With the recent spate of killer bear features MacDonald's sober offering is probably the best of the bunch since The Edge.